PCHSS SPRING NEWSLETTER 2021
Welcome to the NHMRC Partnership Centre for Health System Sustainability's (PCHSS's) spring newsletter! As vaccination rates rise and lockdowns ease, we pause to reflect on the latest research findings by PCHSS investigators on developing and implementing more resilient and robust health systems and to look forward to upcoming events.
WHAT IS THE PCHSS?
The PCHSS is a $10.75M, five-year collaboration involving 17 lead investigators, 20 expert advisors, and over 40 system implementation partners from around Australia. Our vision is that our research findings significantly influence the development of a more resilient healthcare system – one that is affordable, cost effective, and delivers improved health outcomes for all Australians.
UPCOMING EVENTS
Exploring the Nexus of Climate Change, Human Health, and Healthcare System Sustainability (2 December, 1-5:30 PM (AEDT)
The evidence that human activities are driving change in our environment is becoming undeniable. As the earth's climate changes, we can expect more heat waves, fires, floods, droughts, and other extreme weather events. These events will have immediate and longer-term negative impacts on people's physical and mental health, which will increase the demand for healthcare services. How can healthcare systems cope with this rising demand?
The healthcare system also negatively impacts our environment. In Australia, the healthcare systems account for ~7% of the country's total carbon footprint with hospitals and pharmaceuticals being major contributors. In addition, up to 40% of the care given is unnecessary, providing little- to no- benefit or even harming the patient. This wasteful care uses energy and releases greenhouse gases further increasing the systems' environmental impact. What can we do to rein in the healthcare systems' carbon footprint?
In this webinar, our panel of experts will discuss the challenges presented by climate change and explore solutions to improve human health and create more resilient healthcare systems. The panel discussions will be moderated by ABC reporter Sophie Scott.
Keep an eye out for media coverage by Croakey Health Media and our upcoming MJA Insight+ article. Follow the event across the week on @WePublicHealth, #HealthClimateSolutions21.
For more information and to register: https://www.eventbrite.com.au/e/exploring-the-nexus-of-climate-change-human-health-and-healthcare-system-tickets-170381790522
All of our webinars are posted on our YouTube channel after the event.
Follow us on Twitter @PCHSS_AIHI for notifications of upcoming events and registration links.
NEW PUBLICATIONS
Since our winter newsletter, PCHSS investigators published over 57 papers, abstracts, reports, and other research works. These and all our papers are available on the Our Publications page on our website. Notable recent examples of our publications include:
The Macquarie Indexes of Healthcare Productivity: a set of nationally consistent and disaggregated indexes of hospital service delivery for states and territories in Australia. Yeend T, Cutler H, Partington A, Braithwaite J, Zurynski Y. Macquarie University.
The report provides an introduction to a set of new indexes that describe the quantity, price, and combined expenditure on hospital services delivery by the states and territories in Australia. These indexes provide a consistent account of healthcare productivity, which can be disaggregated into sub-indexes that map directly to the underlying activity and cost-structures of health sector providers and their payers.
Transforming routinely collected residential aged care provider data into timely information: current and future directions. Seaman KL, Jorgensen ML, Raban MZ, Lind KE, Bell JS, Westbrook JI. (2021). Australasian Journal on Ageing.
Electronic information systems are becoming increasingly common in residential aged care in Australia. These contain valuable data, which are currently underutilised. This paper provides clinicians, researchers, policymakers, and providers with an understanding of the strengths of these types of data, as well as identifying areas that require future development to maximise their potential to drive improvements in resident care and outcomes.
How do people understand overtesting and overdiagnosis? Systematic review and meta-synthesis of qualitative research. Rozbroj T, Haas R, O'Connor D, Carter SM, McCaffery K, Thomas R, Donovan J, Buchbinder R. Social Science & Medicine.
Overtesting refers to diagnostic tests and screening which lack clear benefits, or where benefits are outweighed by harms. The authors found that overuse concepts were difficult to grasp by health consumers, sometimes received sceptically, and had limited effect on behavioural intentions. However, overuse information did improve understanding of overuse and motivated engagement to learn more.
Impact of rural workforce incentives on access to GP services in underserved areas: evidence from a natural experiment. Swami M, Scott A. Social Science & Medicine.
Financial incentives are often used to improve recruitment and retention of physicians in rural and remote areas. In 2010, the General Practice Rural Incentive Program (GPRIP) was introduced in Australia. This study investigated the effect of this policy reform on waiting times for a non-urgent GP appointments. They found that financial incentives may only play a limited role in improving access to primary care and should not be the only solution to address medical workforce shortages in underserved areas.
Quality of care in the COVID-19 era: a global perspective. Braithwaite J. International Journal of Quality in Health Care Communications.
This article traces the progression of the COVID-19 pandemic from inception through to the present. Even before COVID-19, previous pandemics tested health services, which had trouble keeping patients safe and providing quality care especially during the height of the crisis. There is a strong requirement for health care systems to simultaneously deal with the pandemic and provide safe, high-quality care. This means being resilient and supporting the natural capacities that health systems have to be adaptable, flexible, and responsive.
Health-related out-of-pocket expenses for children living with rare diseases – tuberous sclerosis and mitochondrial disorders: A prospective pilot study in Australian families.Deverell M, Phu A, Elliott EJ, Teutsch SM, Eslick GD, Stuart C, Murray S, Davis R, Dalkeith T, Christodoulou J, Zurynski Y. Journal of Paediatric Child Health.
This pilot study investigated the financial and broader impacts on families caring for children with complex medical conditions. In this study, some families estimated that they had paid up to $25,000 in out-of-pocket expenses since their child was diagnosed. Furthermore, 62% of the mothers in this pilot study reported reducing or stopping working due to carer responsibilities. A larger scale study is needed to fully understand the affordability of healthcare for children living with chronic diseases.
MEDIA ENGAGEMENTS
Since our last newsletter, there have been more than 45 popular press stories covering PCHSS research.
Here is a sampling of news stories from the past few months:
OTHER NEWS
New Leveraged Funding, Awards, and Recognition
Congratulations to Professors Enrico Coiera and Paul Glasziou on being names top researchers in their respective fields by The Australian. Professor Coiera was selected for his work on medical informatics and Macquarie University was named the leading research institution for Medical Informatics. Professor Glasziou was recognised for his work in epidemiology, particularly on the spread of COVID-19 by asymptomatic people.
Congratulations also to Associate Professor Farah Magrabi, who was named one of the Telstra 2021 Brilliant Women in Digital Health. Associate Professor Magrabi was recognised for her outstanding contribution to health and medical research by globally pioneering the study of the patient safety risks of digital health.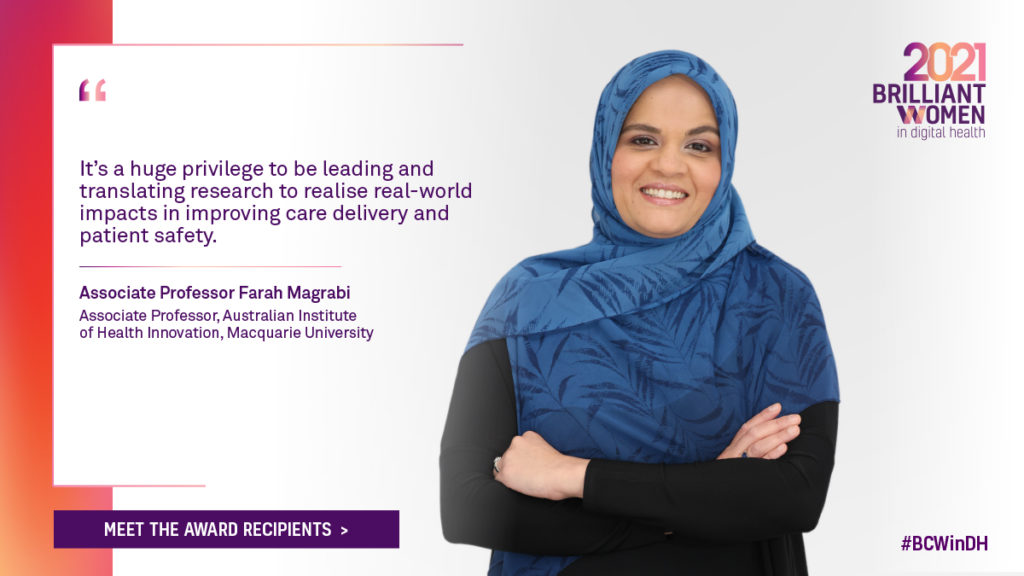 PCHSS' researchers won over AU$22 million in new funding in the past quarter. Below is a brief description of some of the new projects:
Professor Johanna Westbrook and colleagues received an NMHRC Partnership Project entitled, 'A National Aged Care Medication Roundtable—Translating aged care data into action to improve quality of care through collaboration and co-design.' (Investigators: Westbrook J, Gray L, Bucknall T, Etherton-Beer C, Newell B, Raban M, Caighey G, Beattie E, Makeham M, Braithwaite J.)
Poor medication management is the greatest source of complaint to the Aged Care Quality and Safety Commission. This project will provide timely information to a group of providers and consumers about the medicines residents receive, identify problem areas, and trial innovative interventions to address these issues
Professor Enrico Coierasecured an NHMRC Investigator grant entitled, 'Bringing artificial intelligence into the real world of healthcare—the implementation challenges.'
This research program will focus on three foundational challenges to bringing artificial intelligence (AI) into the clinical world. To ensure AI is safe, the first challenge the program will research is optimal mechanisms for surveillance and governance of AI safety. The second challenge addressed will be the lack of genuine independent testing of claims for the benefits of AI. The third challenge investigated for clinical AI will be transferability, that is good performance in one setting may not be repeated in even closely related settings.
Professor Paul Glasziou received an NHMRC Investigator grant for 'Optimising the uptake of effective underused evidence-based non-drug interventions in primary care.'
This research program will develop evidence-based guides for effective non-drug treatments and provide world-first evidence on the best way to improve the uptake of non-drug treatments by clinicians and patients in primary care.
Professor Rachelle Buchbinder and colleaguesreceived an NHMRC Centre for Research Excellence: 'Wiser healthcare—Better value care for all Australians.' (Investigators: McCaffery K, Carter S, Barratt A, Bell K, Moynihan R, O'Connor D, Buchbinder R, Houssami N, Glasziou P.)
This Centre for Research Excellent develops a new solutions-based approach to overuse of unnecessary, ineffective healthcare. The goals of the CRE are to build health literacy in patients, communities, and health professionals; respond to changing screening and diagnostic technology; address financial drivers; and change clinical practices, to minimise harm and waste, achieving more sustainable healthcare for all.
Associate Professor Yvonne Zurynski is part of a large collaborative grant awarded by Cancer Institute NSW—Accelerated Translational Research Grant (ATRG) grant to develop 'The APRICA program—Accelerated translational research in PRImary Liver Cancer.' (Investigators: George J, McCaughan G, Reddel RR, Chant K, Clarke SJ, Liauw W, Nagrial AM, Agar M, Zekry A, Zurynski Y, Cronin P, Ross JP, Usherwood T, Strasser SI, Levy M, Bollipo S, Baker L, Sowmya A, Eslam M, Bertolino P, Palendira U.)
Liver cancer is the second fastest growing cancer type in Australia and the fastest growing cause of cancer deaths. This new cancer research program will strive to change this.
PAST EVENTS
PCHSS 2020-2021 webinar series
The PCHSS hosted another webinar in its 2020-2021 Health System Sustainability series.
Perspectives on Social Prescribing (28 September)
Social prescribing is the practice of linking patients to social services and community-based programs (such as exercise classes, art appreciation, and nature activities) to address the social determinants of ill health. This webinar included presentations from James Sanderson (Director of Personalised Care at the NHS, England), Carolyn Dew (Head of the Cultural Pharmacy) and Professor Mark Morgan (Professor of General Practice at Bond University and Chair, RACGP Expert Committee – Quality Care) and Associate Professor Yvonne Zurynski (Associate Professor in Health System Sustainability, PCHSS and Australian Institute of Health Innovation, Macquarie University) and others working in this topical area, followed by a lively panel discussion.
You can watch the webinar now on our YouTube channel.
The Spring 2021 PCHSS Newsletter is out now. In this edition, learn about upcoming events on climate change and health system sustainability, see new publications on overdiagnosis, out-of-pocket expenses for families, and how financial incentives impact rural GPs.